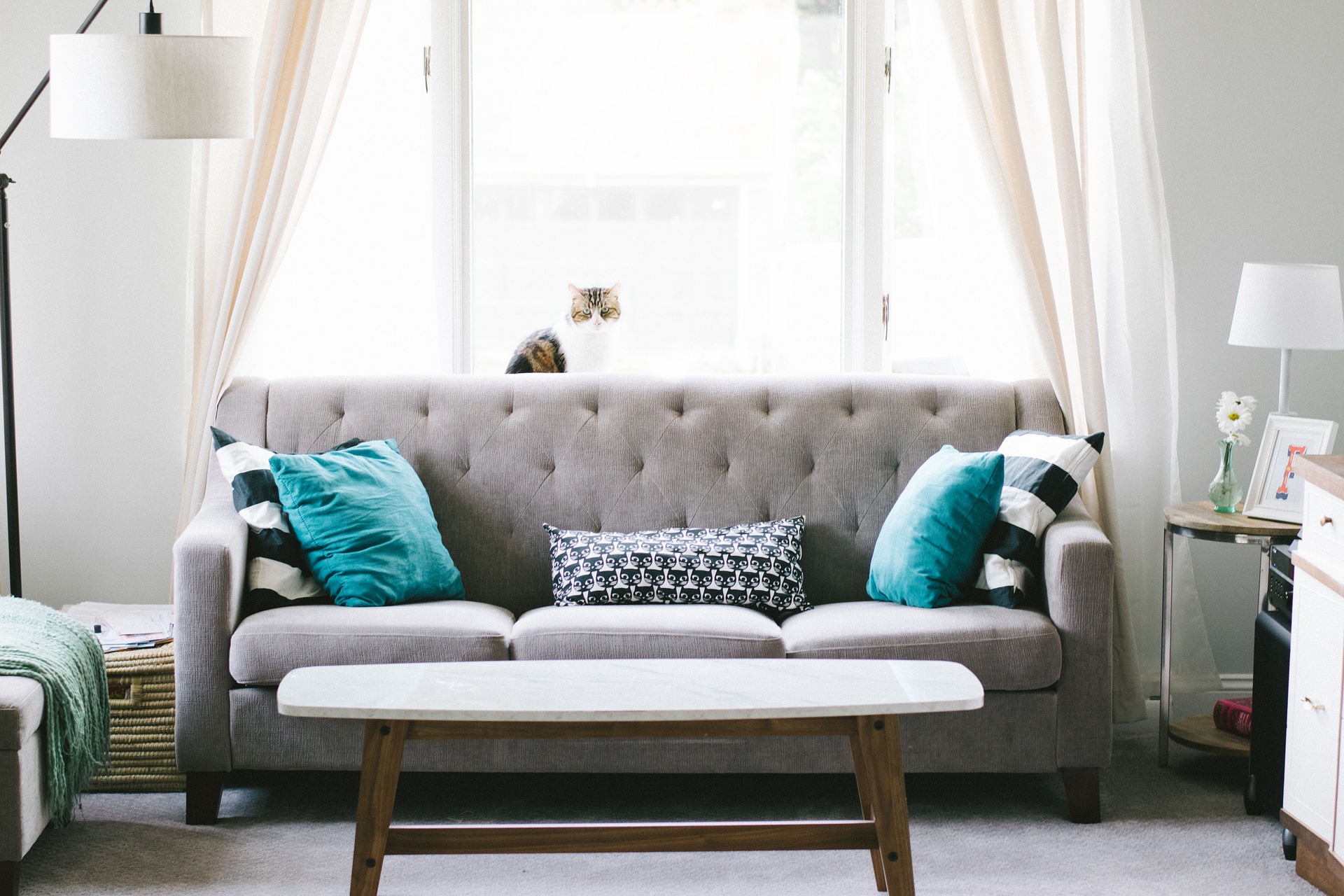 Are you thinking about buying a new sofa but don't know where to start? There are tons of options out there these days, and often that can make the whole shopping experience overwhelming. Thankful, I've got you covered. Here are 7 tips for buying a sofa that will make everything easy peasy!
What to Look for When Buying a New Sofa
Don't just run out and buy the first couch you find. Consider these things first.
Color of the Sofa
Back in the day, you used to have a handful of options when it came to color choices for sofas. And often, they consisted of varying shades of the same color, as well as that same floral pattern everyone seemed to have.
Nowadays, you have choices. So many choices. Everything from an emerald green velvet sofa to brown couches upholstered in leather.
The trick is to figure out what color goes best in your home, but also what color will last. Trends come and go, but your big-ticket furniture pieces should be evergreen. (No, not the color!). Evergreen means something that works pretty much with anything, anytime, anywhere.
I'd highly recommend keeping the color neutral if you're looking for a lasting piece. Colors such as black, brown, beige, or grey.
Style of the Sofa
Just like color, style comes into play here, too.
You could go ultra modern with sleek clean lines. But this style often sacrifices comfort.
Mid-century modern is very popular right now with a throwback to the era between the fifties and seventies. While some pieces can be evergreen, some may be a fizzing trend.
You could opt for an eco-friendly fabric choice, but they usually don't last as long and aren't as durable as, say, leather. 
I'd recommend you go with something traditional. A sofa that's comfortable, well made, and without all the bells and whistles. A couch that would easily go with many changing styles.
Price and budget
This is one of the most important tips. Determine what your budget is and that will automatically narrow down your choices so you're not wasting time looking at sofas out of your range.
Size of the couch
Believe it or not, size is a big factor for many reasons.
     

It should be large enough to comfortably fit your family members.

     

Consider your door frames and the route to the room where it will go. Can the sofa fit through them?

     

Also, the size of the room it's going in. Will the couch fit? Is there a place for it?
Consider your current style
Your current personal style should always be considered when shopping for new furniture and décor. Why buy a modern sofa if your entire home is decorated with a country vibe? Make sure to choose something that goes well with your current home décor.
Warranty
I always mention warranty because not many people consider it. But for me, as a mother of two small kids, a warranty on a big-ticket item such as a new sofa is important. Don't get something that has any less than a year long warranty and coverage.
Also, check what the warranty covers. Sometimes it's just the frame. Other times it's only the upholstery and seams. Find a warranty that works for you and ask about extended or extra warranty options.
Construction
It may look great on the outside, but did they cheap out on the inside? If you're buying a sofa online, be sure to do your research. What's the frame made of? What type of wood? How is it assembled? Does the manufacturer warranty the construction?
You definitely want a sofa that's well built to stand the test of time and handle the daily weight.
If you're shopping in a store, just make sure to ask the salesperson these questions.
Wood Types to Stay Away from
Woods that are Strong and Sturdy
FAQ
How often should you get a new couch?
Not often, in my opinion. A new sofa can be expensive, so you want it to last. Just make sure to invest in quality, with upholstery that's easy to care for. A good couch could easily last ten years.
Is it better to recover a sofa or buy new?
It depends. Recovering or reupholstering a sofa is easy and much cheaper, but if the frame is no good then there's no point. Sometimes it's just best to buy new.
What is the best month to buy a sofa?
During sales such as Black Friday, Cyber Monday, and between seasons when they're pushing new stock and marking down old.
What is the average price of a new couch?
Cost always depends on quality, construction, and style. But the average decent sofa usually costs about $1000.
In Conclusion
And there you have it! 7 tips for buying a new sofa! Did you find this helpful? Are you more confident in shopping for a couch now? Be sure to comment and share below if you have questions!