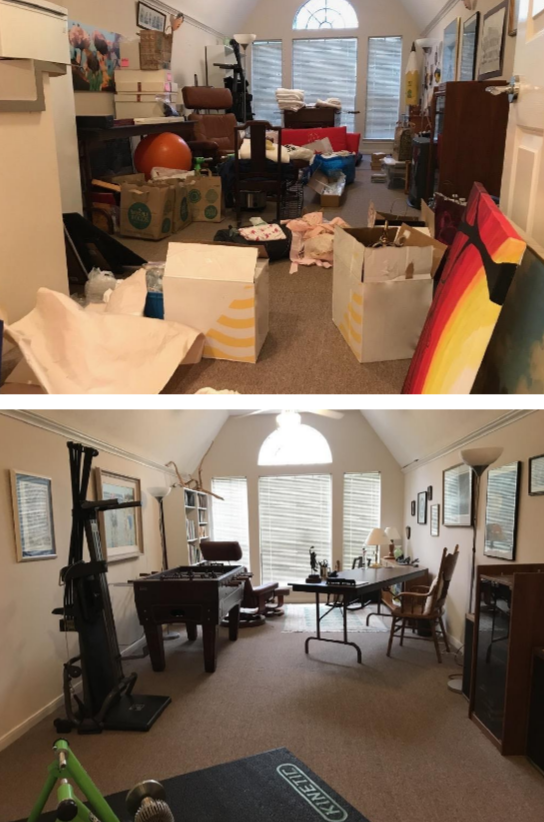 Guest post by: Laura Sinclair of Flourish Organizing
Are you getting ready to move? A frequently asked question is: should I declutter before or after the move?
Ideally, you should declutter before the move. Decluttering first means that it will take less time and expense to physically move your belongings to your new home. However, this isn't always possible, so you will have to consider your particular situation in order to make the best decision for you.
First, think about how much time you have to devote towards decluttering. Do you have time to go through your whole home? If so, go for it! Most of the time, however, you will have to pick and choose what you can actually accomplish in the time allotted. I suggest starting with the category that would make the biggest impact for you. This is not the time to go through each piece of paper that you own. While this is a useful task, it would not be the most effective use of your time. Instead, pick a category that is both easier for you mentally and will also make the most sizeable difference in the amount of possessions that you have to move.
For example, do you have a ton of clothes and know that you can go through them quickly? Great! Start there and donate those that no longer work for you! Do you have 40 flower vases but only want to keep about 10… start there since vases can be bulky, are easily breakable, and take up larger spaces to pack. The idea here is to do what will work well for you. Don't get stuck in the overwhelm stage. Just do something! Any decluttering reduces the amount that you have to move and can be helpful in the relocation process.
Once you are ready to sell your home, there will be a separate step for staging your home. During this time, you will do a different kind of decluttering and cleaning up to make the house ready for photos and tours.
Bottom line – pick something easy and get started decluttering! Don't be too hard on yourself; just do what you can. If decluttering is important to you, you can always continue the process once you have moved in!
Bio: Laura Sinclair is a professional home organizer and certified KonMari Consultant. As the owner of Flourish Organizing , she helps people to declutter and reorganize using Marie Kondo's method of tidying. Find out more here!
Photo credits Flourish Organizing